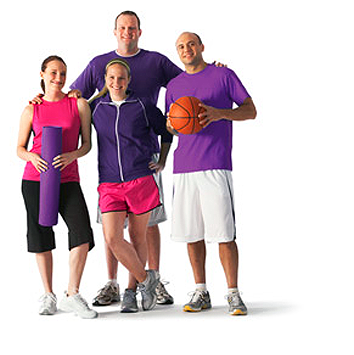 Join the YMCA today and begin the journey on the road to healthy living!
Welcome to the Y, a nonprofit organization of over 2,700 Ys located in 10,000 communities across the United States dedicated to strengthening the communities that they serve. With a focus on developing the potential of youth, improving individual health and well-being, and giving back to and supporting communities, your membership will bring about meaningful change not just within yourself, but in your community, too.  The YMCA has proudly served Beaver County since 1891. We are ready to provide you and your family a place to belong.  For more information, please contact our Membership Department at 724-891-THE-Y
When you join the Y, you join a community organization that offers health, hope and opportunity
Parents find a safe, nurturing environment for their children to stay active, be engaged and learn positive values.  Families come together to have fun and spend quality time with each other.  Children and teens play and develop self-confidence while feeling accepted and supported.  Adults connect with friends, pursue interests and learn how to live healthier.  People from all backgrounds and walks of life come together to volunteer and help strengthen their community. We all build relationships that further our sense of belonging and purpose.
Our Cause Defines US
We know that lasting personal and social change happen when we all work together. That's why at the Y, strengthening community is our cause. Every day, we work side-by-side with our neighbors to make sure that everyone, regardless of age, income or background, has the opportunity to learn, grow and thrive.
STrengtH is in community
The Y is a nonprofit like no other. That's because in 10,000 neighborhoods across the nation, we have the presence and partnerships to not just promise, but deliver positive change.
The Y is community centered and have been listening and responding to our community.
The Y brings people together. We connect people of all ages and backgrounds to bridge the gaps in community needs.
The Y nurtures potential. We believe that everyone should have the opportunity to learn, grow and thrive.
NATIONWIDE MEMBERSHIP
My Y is now every Y NATIONWIDE
Nationwide Membership enables you to visit any participating Y in the United States through membership at your "home" YMCA (your home location is the facility that enrolled you as a member and that collects your membership dues).
We offer this benefit because we want to help you reach your health and wellness goals wherever you live, work or travel. This is an essential part of our cause of strengthening communities.
What You Need to Know
Simply present your active YMCA membership card and photo ID at any participating YMCA nationwide and enjoy FREE access.
Restrictions

Visiting members must provide a membership card and a valid photo ID. All children under the age of 18 must be accompanied by an adult.
First-time visitors may need to sign a one-time electronic waiver.
Members from different YMCAs will not be able to bring a guest.
Members visiting from other YMCAs will pay nonmember rates for classes and programs.
YMCA members must use their home branch at least 50% of the time.
Beaver County YMCA reserves the right to restrict facility or program access.
Silver Sneakers, Silver and Fit, and Prime do not qualify under the Nationwide Membership program but Silver Sneakers can still use other facilities by signing in as a guest in Tivity.
Click here for a list of participating YMCA locations in this program.
For additional questions on our Nationwide Membership program please contact the Membership Department at 724-891-8439.